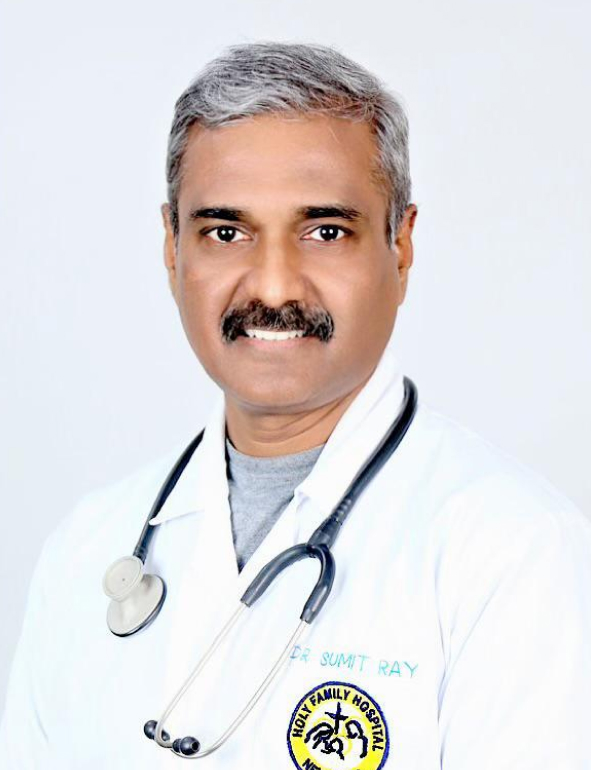 Dr. Sumit Ray, is a nationally renowned Critical Care Specialist with more than 25 years of experience. After completing his MBBS (1990) and MD (1995) from Maulana Azad Medical College (Delhi University), he worked in the medical college hospital for 3 more years. Between 1998 and 2000 he did his Fellowship in Critical Care Medicine, from USF (Tampa) USA, at the Tampa General Hospital. He joined as a Consultant in the Department of Critical Care & Emergency Medicine at Sir Gangaram Hospital, Delhi, in 2000.
He was appointed Vice-Chair of the Department in 2006 and continued to work there till August,2018. He was a Member of the Board of Management at Sir Gangaram Hospital between 2011 till August 2018, when he left for Artemis Hospital, Gurgaon. Between September 2018 and May 2020, Dr Ray, was Chairperson of the Department of Critical Care Medicine and was also appointed Chief of Medical Services (Medical Director) there. He joined Holy Family Hospital at the peak of the Covid-19 pandemic, in June 2020, as Coordinator of Critical Care Medicine Department. He has been appointed as Medical Superintendent since 1st February,2021.
Dr Ray has a long and distinguished career in Critical Care Medicine and as a medical administrator. He was awarded the Chikitsa Ratna by Indian Medical Association (Delhi) 2013 for exceptional clinical and humanitarian contribution to Critical Care Medicine.
He has been a Teacher and Examiner in Critical Care Medicine at the National level. (National Board of Examinations) He has been a Faculty in multiple conferences and delivered lectures at the National and International level. He has deep interest in academics and research and believes that good quality clinical care delivery is enhanced by high quality academics and research.
He has 52 research publications in peer reviewed International and National journals and chapters in textbooks. He has conducted research studies funded by the ICMR.
He has written many opinion and editorial pieces on social and public health related issues in newspapers like Times of India and on digital news networks like Quint and Wire.
He is regularly interviewed on television news channels on medical, social and public health related issues. He believes that healthcare is a human right and high-quality healthcare can and should be delivered ethically and at an economic price for all, without the motive of profiteering.